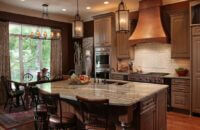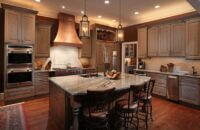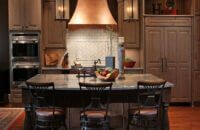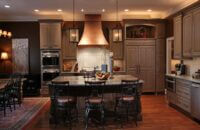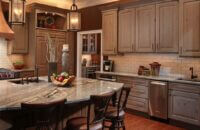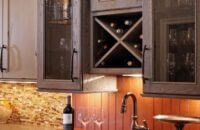 Warm and Welcoming Rustic Kitchen
Design by Splash Kitchen & Baths LLC, Georgia.
The warmth of a custom copper hood took center stage in creating a welcoming ambiance, and the Dura Supreme artisan finished cabinets were equally important in creating the rustic look.
A mix of hand-crafted cabinetry finishes was selected to impart a "loved and lived in" look.
Dura Supreme's hand-detailed finishes include a Weathered "D" finish on Red Oak for the bar area and a Heritage Paint "K" on Knotty Alder finish for the kitchen perimeter. Heritage Paint has the look of paint, but with an heirloom quality that creates a chipped and worn surface to look like a well-loved piece of furniture. The cabinet door styles used are Hawthorne and Marley and the kitchen island is shown in Knotty Alder with a "Praline" stain.