Now that we've hit the first day of summer, it's time to think about those summer getaways! Here in Minnesota where I grew up, the Land of 10,000 Lakes, my childhood summers were spent near water. Whether it was a family cabin or a resort on one of Minnesota's pristine lakes, summertime meant casual fun peppered with swimming, boating, and sandcastles.
The beach house/coastal lifestyle is prevalent all over the country – from Minnesota to Martha's Vineyard, to Malibu, and everywhere in between. With it comes an entire genre of design possibilities. Here I will show off some gorgeous coastal palettes, textures, and Dura Supreme door styles that lend themselves to this aesthetic.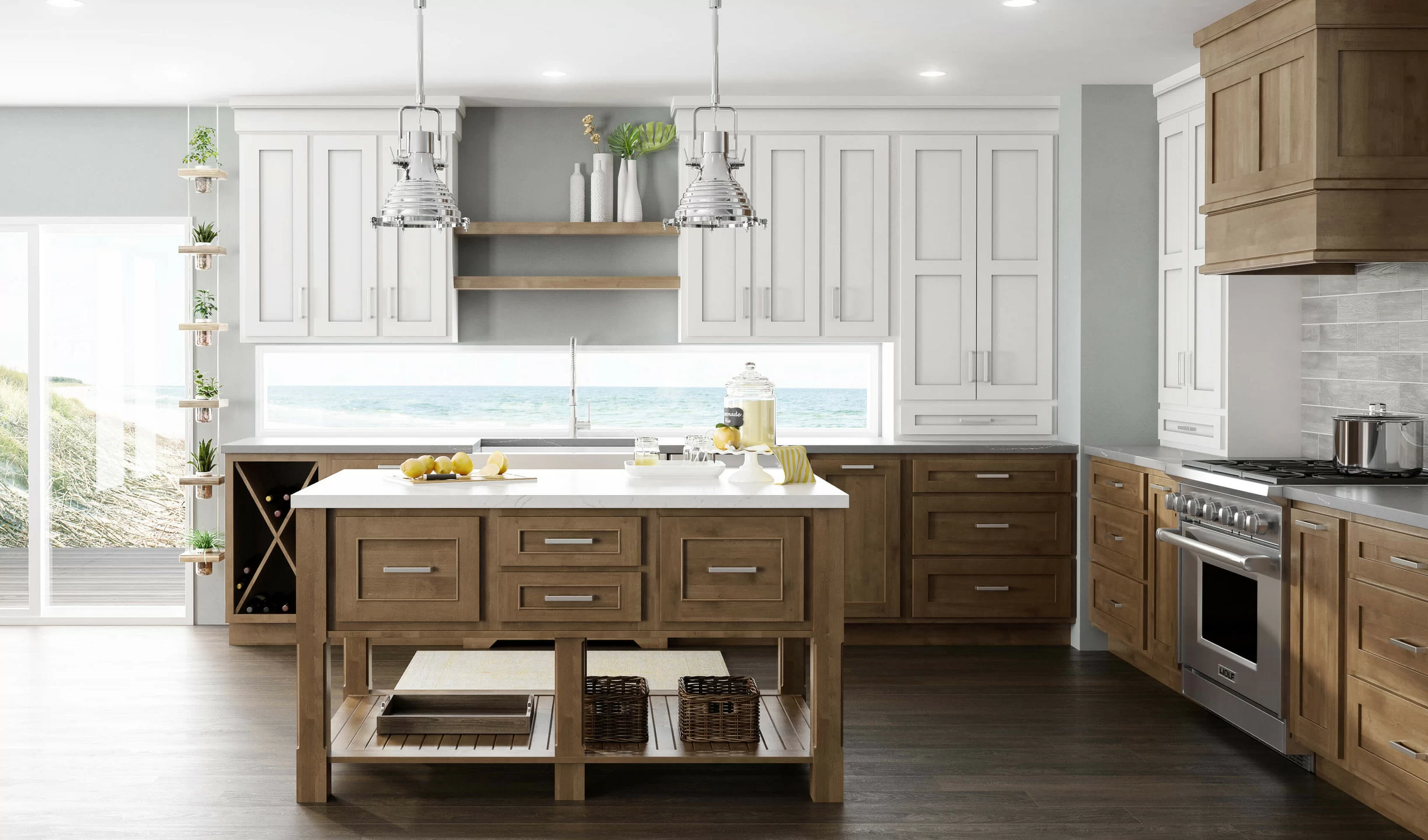 Here we see an oceanside kitchen mixing our White painted cabinetry with Pewter accent on our Craftsman door style and our Silverton door style in Knotty Alder with our Cashew stain. Don't miss those awesome water views – install a window as your backsplash and bring the outdoors inside!
Another great example of whites mixed with true brown, wood tones is shown below with Dura Supreme's Carson door style painted Linen White, and Knotty Alder samples in Feather and Coriander stained finishes. Shiplap is also an obvious pairing for this style.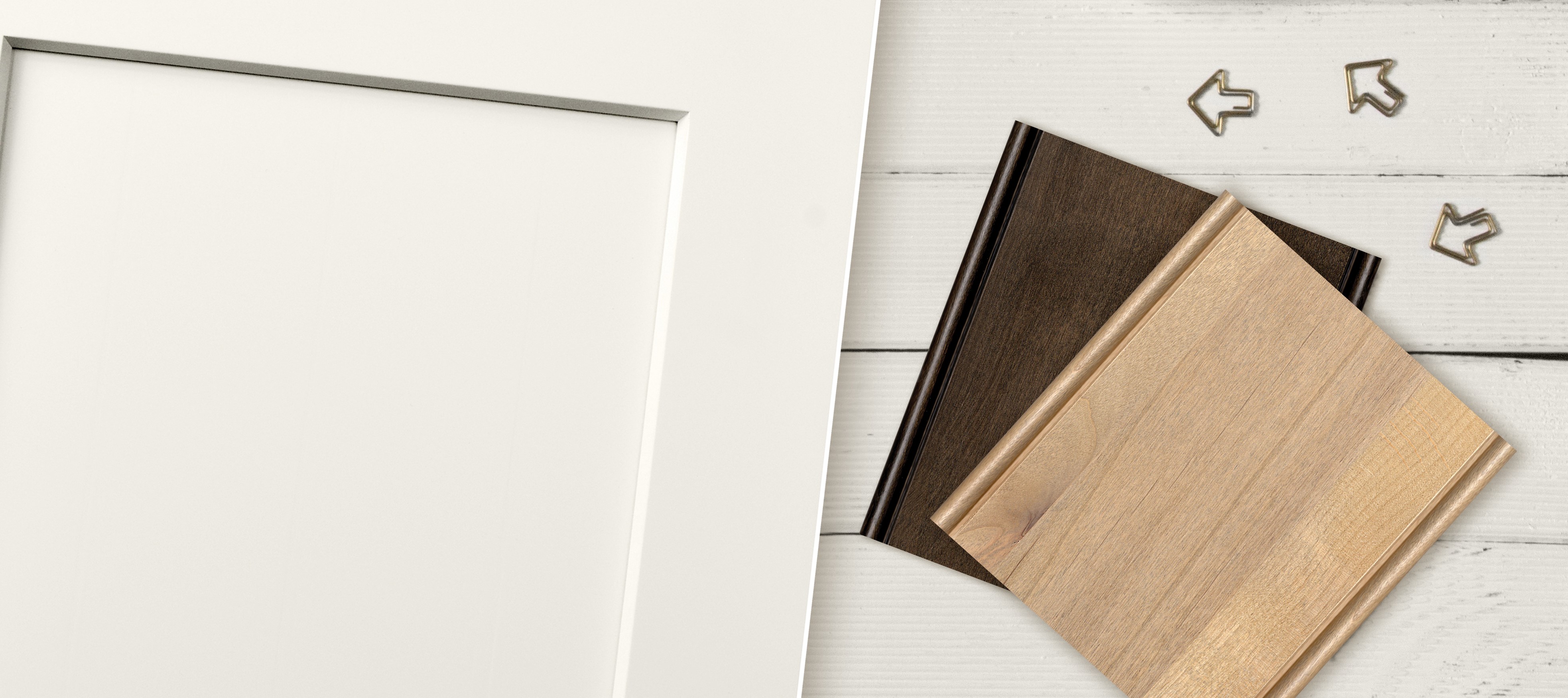 Dura Supreme's Carson door style finished in Linen White paired with Dura Supreme samples of Feather and Coriander stain on Knotty Alder
Below in this casual gathering area off the kitchen we see lots of natural textures in the sisal rug and the seagrass wallpaper behind the TV, all connecting with the adjacent outdoor living space.  Muted, watery blues and browns round out this Florida palette along with Classic White painted Dura Supreme cabinetry and a shiplap ceiling.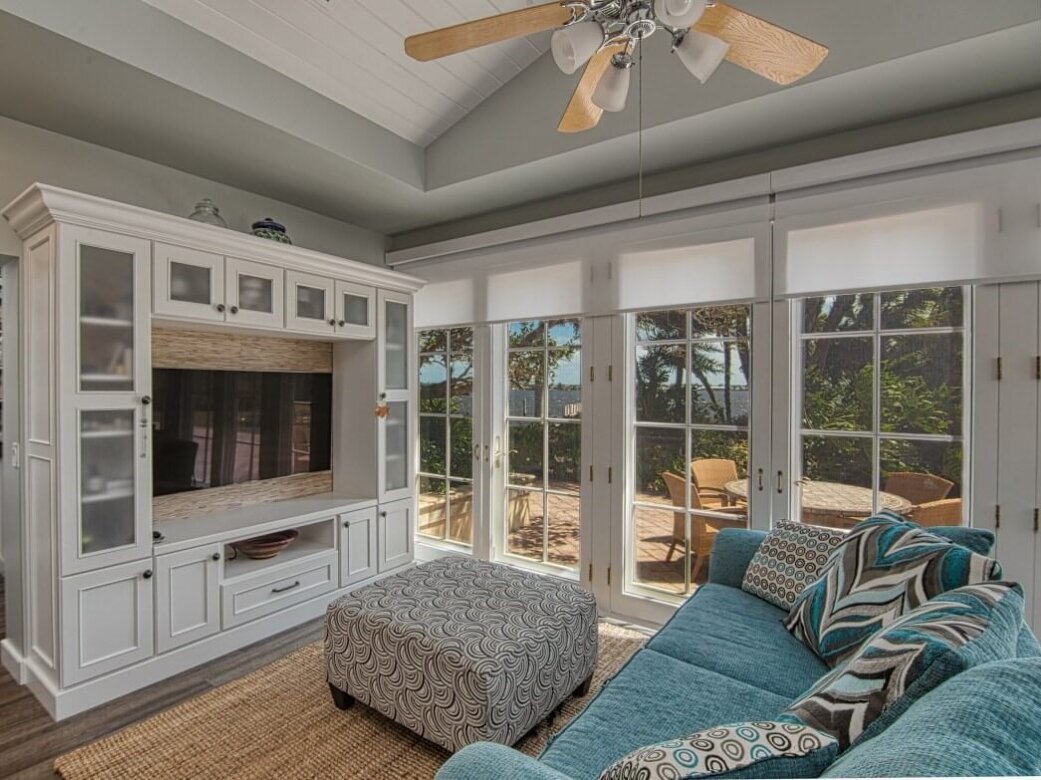 Here we see a casual, boho coastal look in this family room with great use of texture, natural materials, and a stunning color palette.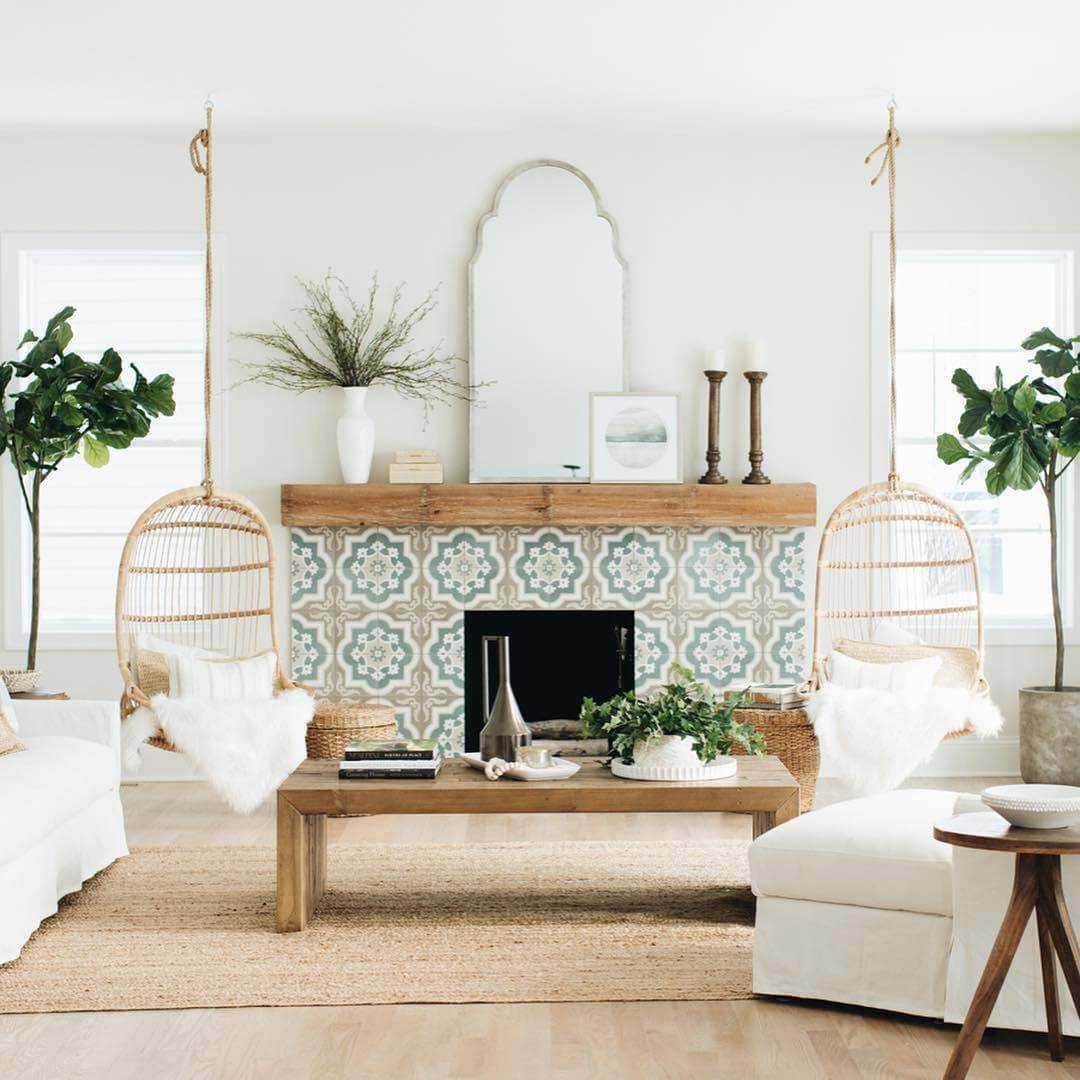 A kitchen in Dura Supreme's Coriander or Sesame stains (shown below) on Cherry would complement this room nicely. Add an island using our Custom Color Match program in a light blue-green paint to match the encaustic tile, and you could easily create a beautiful, pulled-together lake home.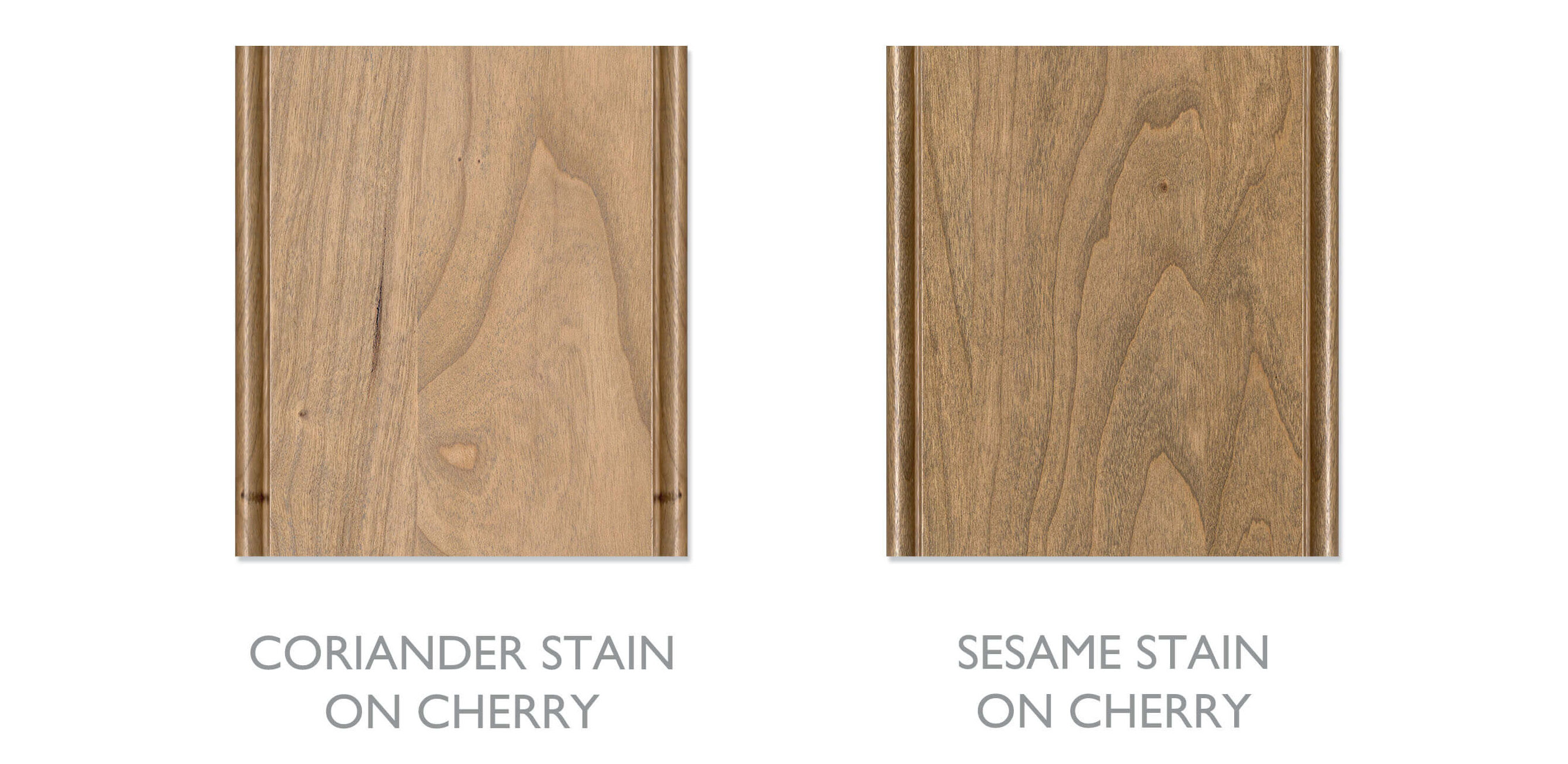 In addition to whites and natural wood textures, blues have always had a home in coastal design. Here is a perfect selection showing just that. This is our Allura door style in Matte Navy, and our Dash door style in Carrara White. The tile selection masterfully pulls together the blues and whites.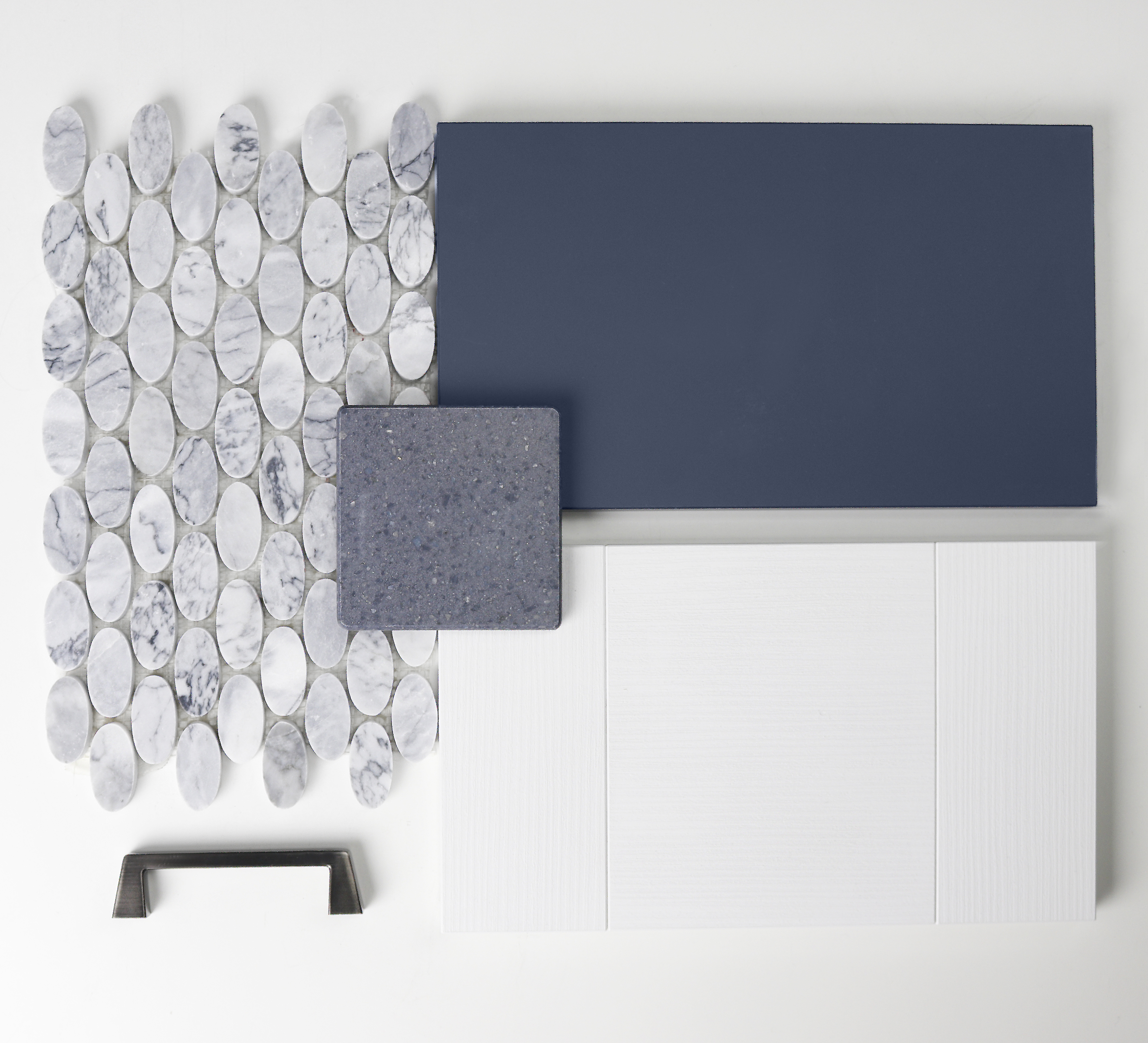 Dura Supreme develops a Curated Color Collection of 6-7 paint finishes every couple of years, keeping up with current trends and making it easier for designers to select the perfect hue. Below are 3 different blues from our current Curated Colors including a dark, naval blue, a muted/grayish blue, and a more stormy-sea blue.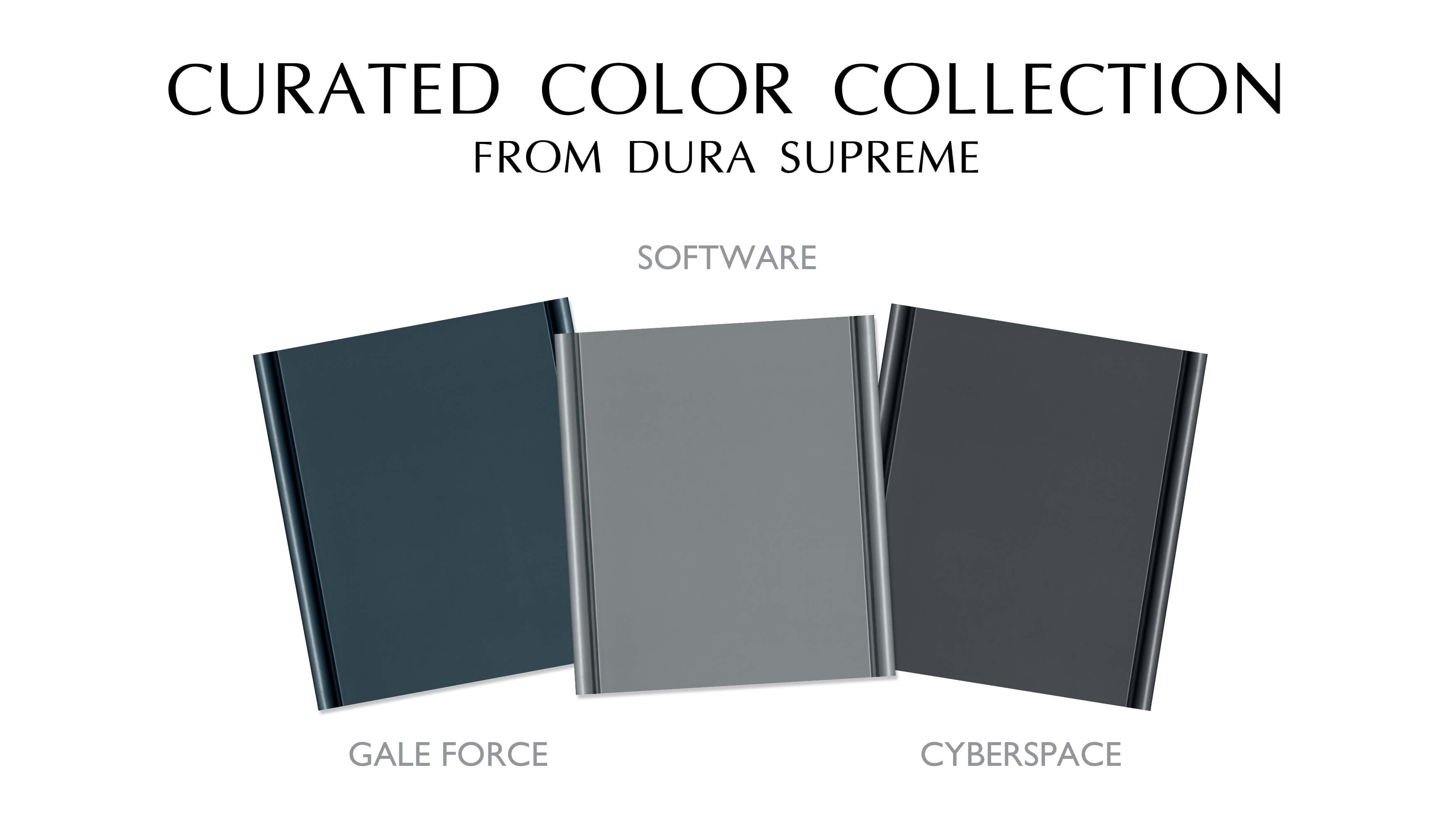 Dura Supreme also recently launched a new Textured Foil line, which lends itself well to this style. Below we see our Dash door style in Lodge Oak Textured Foil, giving the look of weathered wood. A playful, tri-panel door with just the right amount of dimension and wood grain, ready to pair with whites, blues, or greens.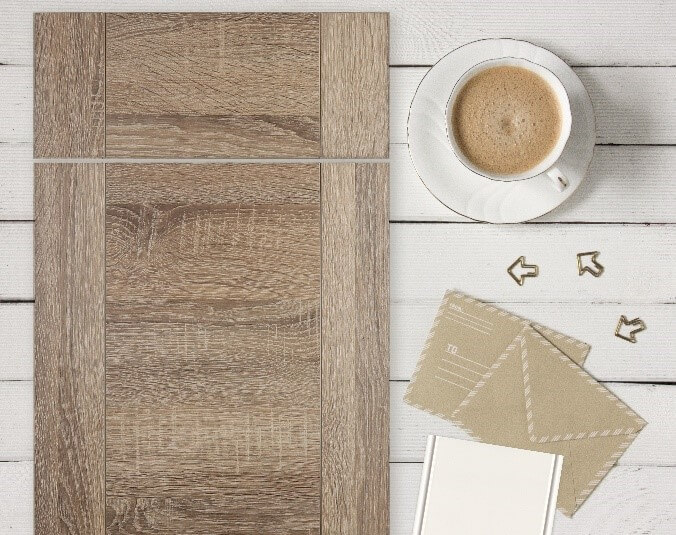 Dura Supreme's "Weathered" collection of finishes creates a unique, weathered finish on wood. Our special finishing process can be applied to almost all of our door styles, or used with our shiplap strips and panels to create a one of a kind space.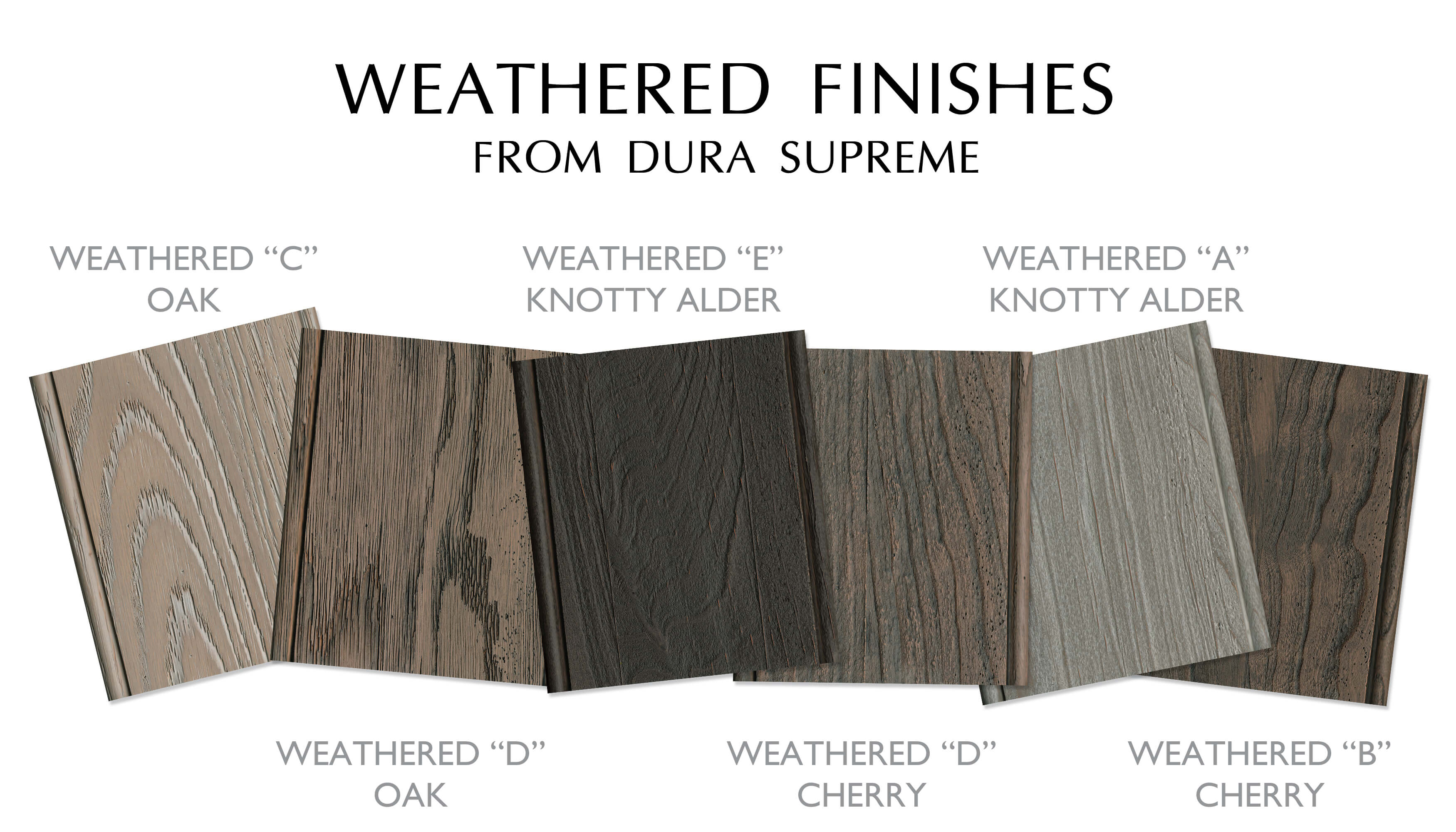 Achieving the perfect look for your beach home has never been easier. With so many coastal-inspired finishes and door styles offered by Dura Supreme, it's hard to go wrong!